4 Marketing Video Concepts to Help Drive Leads
If you attended INBOUND17, then you must know what's in store for this year. Video marketing, which seemingly was dormant, is now ready to erupt like Krakatoa back in 1883. With a huge emergence, companies are now scrambling to understand what video marketing could look like for them, and how to capitalize on it now. From a marketing perspective and from someone familiar with video marketing concepts and how they are perceived by the masses, let's discuss a few types of videos you can expect to see this year, and how it can help you drive leads for your company.
Whiteboard Explainer Video
How important is educating your website visitors and potential customers? If your answer is "nahh"...you're dead to me. If your answer is "very", then by golly, listen up. One of the easiest ways to educate your prospects is by explaining their solutions and benefits, in as little or as much detail that you see fit. Whiteboard videos help you do just that. There are a lot of video marketing companies that have experience in whiteboard video creation, but there are also some cool tools to maybe try it yourself. (Need to ask Sam for what the tool he found). Whiteboard videos are made to be clean, but structured. Visual content is such an easy way to learn, and when you can see motions of someone writing down the process, you can educate someone in under 30 seconds. Start with something small, like a specific marketing area. If you decide to build from top of the umbrella, you lose the effectiveness of your video message. For instance, if you provide SEO services, create a short video effectively showing your process and how you drive results through SEO.
Motion-Graphics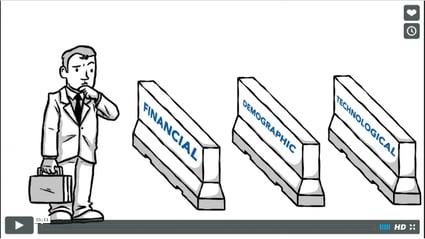 Much like Whiteboard explainers, a motion-graphic based video piece is super informative and clean. In fact, a lot of marketing videos you will see incorporate a little bit of both. Motion-graphic video creation takes skill and patience to create a lasting and effective piece. Once again, keep things simple and stick to your objective; if you can do that, a 30 second clip is all you need. Keep in mind, you want the timing and your graphics to piece together and "stick" into your viewers mind.
A motion-graphic video can play into all aspects of your marketing funnel, from very high-level awareness pieces, to driving your sales qualified leads to the next steps through a potential case study style video. Again, keep it structured, and to one idea. Your ultimate goal is to project tiny gold nuggets that the viewer remembers. If you throw several ideas at them in one video, how does that stick? How does it resonate?
On-Demand Webcasts
One of the most effective marketing pieces you could create is a webcast. In fact, this concept is two fold. Let's say your company is ready to dabble in live webinars. You've built the plan, the strategy, and you have registrants. Neetoooooo! SO, the day comes, you run a kick ass live webinar in front of plenty of live attendees, great! What are the next steps? Is that it? If you ask me, you've barely scratched the surface. In fact, if in your initial strategy, you didn't have the idea to "record" this webinar, then stop reading now. The whole idea is to take that recording, clean it up, slap some branding on the front and back end, and market that piece! You just ran a potential goldmine webinar with lasting messages to a live audience, don't you want that available to people who couldn't attend, or haven't discovered your company yet? A webcast provides the same message to both your live attendees and potential leads that didn't even know about it, but want to know more about you and the services you offer.
Taking it to the next level, try running a 3-part webinar series. The result is not one lasting piece, but an ENTIRE series that you can offer to website visitors! Not only that, but you have 3 pieces of content to spread out the dispersion! Set up a workflow, allowing visitors to watch from the front end, then wait a week, send them part 2, wait another week, send them part 3! Boom, done...not! After you send them part 3, wait another week, and send them an email offering for them to speak to someone on your sales team! You have literally built an entire full funnel conversion area, just with webcasts, and if they are paying attention, and watching every single webcast, they might be ready to buy.
Client Testimonial
Sometimes it's hard for a prospect to really get to know you. They may be ready to buy your product, and if they haven't had that "face-to-face" connection, it's hard to build their trust. Why do employers ask for references? To make sure they are making the right decision. Why might a potential client want to talk to some of your current clients? To make sure they are making the right decision! Instead of them asking you for references, why not give them the option to "meet your clientele" via a client testimonial video? If you do it right, you give them the comfort and clarification to build trust from a video. Some people won't even pick up the phone to call you unless the understand your success. Client testimonial video pieces help gives a sense of trust. When you decide to build one, make sure you are reaching out to the right people, and interviewing them with the right questions that you WANT to answer for your prospects.
Video is finally here, and it's time to jump onboard. There are so many ways a well put together video piece can influence your business efforts for years to come. If you need help getting started, get in touch, you'll be speaking with the latest Wistia Agency Bronze Partner!