Back when I was a little boy, there wasn't much that didn't amuse me. I was into Power Rangers, built Lego's, and played make-believe like no other kid could. When you grow up, technically that's supposed to go away. But what was supposed to go away was brought back to the surface when I started working at
Revenue River Marketing
. Not so much the children's toys and make-believe, but more so the environment that allows you to be happy while doing what you have a passion for.
I started my journey at this company back in December, and since then, Revenue River has changed drastically for the good with growth and understanding what this company is all about. How, you may ask? Well, let me take you through a day in the life of a Revenue River employee…
7:00am – Arrive in the office, most likely to find our fearless leader, Eric Pratt, already typing away and getting started with his morning grind. For coffee drinkers, it's an added bonus, because Eric makes a mean brew and it's usually always ready by the time the first batch of us rolls in.
Once we're caffeinated the mornings are great to hammer out some
work
. We have a full team of Inbound Marketing strategists, coordinators, designers, SEO experts, and more that help make the wheels turn at Revenue River. But, what it boils down to is we are a huge team that can openly ask for help and advice without leaving our office (because usually someone knows the answer before you walk out the door). Every morning is different, filled with
writing
, strategy, client meetings, and sometimes playing a couple of harmless pranks if someone walks away from their computer…it happens to everybody.
We are an adaptable group, which is vitally important to all of us. One person may have a big client call that will take up the conference room, at the same time another team may have an internal cadence meeting that will have to move to an office. Being a tight knit group (is it cliché to call us a family?), our open door policy is something that doesn't go unnoticed. If you have a question, you should never feel it should go unanswered. There's a saying, teamwork makes the dream work…is it fitting? Yes.
12:00pm – We're a very close bunch, so most of the time once lunch rolls around, we like to spend that time together catching up, talking about our weekends, and just hanging out. Whether we order food in, or head to somewhere local in Littleton, CO, its always a fun time…minus the time I lost in credit card roulette…
Revenue River's Go-To Lunch Spot: Jimmy Johns if we are ordering in, Old Chicago's if we are going out.
4:00pm – After a couple hours of work fit in after lunch, the true athleticism is brought to the front stage in the Revenue River main room. There are two games that everyone in Revenue River can enjoy. The first being "Rev".
"Rev" is our version of HORSE or PIG, played with a mini ball and mini basketball hoop. Sometimes getting pretty heated in the trick shots that get thrown down, there can only be one true champion of the game…no really, we have a scoreboard that shows it.
The second game, and my personal favorite, is floor hockey. With two mini hockey nets, and two people per side, true grit and sweat is left out on the floor of this race to 3 goals (no really, there was a month where the AC was broken. It was…bad). Surprisingly enough, no major injuries have compounded from this fun office game.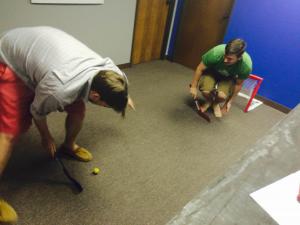 It's a rough office sport, just ask Adrian about his eye.
We have a very "work hard, play hard" attitude, and that starts with our "work by the compass and not the clock" approach. Revenue River is a very unique work environment, and we like it that way. We don't want to follow the rules set by other companies, we want to have an environment that allows you to complete your work in a timely manner, all while enjoying the company of some really awesome people around you. Did I mention the Rockies season tickets? Don't think I did…
If you want to learn more about Revenue River and what we do, or are interested in joining the team, click to our contact page
here
!