Top 10 Signs Your Marketing Has No Hope - Inbound Marketing Revolution
Digital marketing is on fire. There is no better or more cost effective method of attracting new customers than through an effective inbound marketing campaign. On the flip side, Old world marketing tactics are more costly and less effective at converting customers than ever before. Everyone hasn't caught on yet however, check out this staggering statistic:

"In 2012, marketers spent over $45 million on direct mail, according to a report by the Winterberry Group, a consulting firm. "That's bigger than search, online video, online rich media, online banner ads, and traditional magazine advertising combined," Honig said.
(Source: PostalReporter News Blog)
News flash: The industrial age is dying
Just because most of the businesses haven't quite caught on yet doesn't mean their customers don't get it. You can't participate in the information age without using a smart phone, tablet, laptop, or computer. That's where your customers are migrating, you need to as well.
Caution: You get what you pay for
In the long run you'll spend 3x more fixing the mistakes you made doing it on the cheap. Doing things the right way the first time (or this time) improves brand image and integrity and produces ROI through performance. Cut the corner, pay the price.
Declaration: Marketing your business online is not an option.
Sticking your head in the sand and pretending everyone considering doing business with you isn't searching you online is not strategy. It's not too late, you still have time to get ahead of the curve and build your goals, make plans, identify challenges, and build a timeline for success.
Action Item: Assess your assets, educate yourself
Now that we've established that marketing your business online is important, timely, to be done correctly let's take a look at some of the symptoms that you're not where you need to be. You might want to take a close look at what you're doing, and not doing...
Top 10 List - Signs your marketing has no hope
10. You spent your entire marketing budget on printing your 50 page catalogue
9. You get your inbound leads through your fax machine
8. You just upgraded the size of your yellow pages ad, the phone just wasn't ringing.
7. The guy who designed your website LOVED Flash Player
6. When I say SEO, you say WTF?
5. Your email marketing campaign consists of responding to spam messages.
4. Your 14 closest friends and family LOVE your Facebook company page.
3. You say... "We get all our business from referrals" like that's something to be proud of.
2. Your website looks like this, and you're cool with that.
1. You hired the guy who offered you a 'Billion dollar inheritance' to do your SEO.

Have a favorite?  Share it socially please.
It's time to get with the times. Why go outbound with your leads when you can bring them to you with inbound marketing? Not sure of the difference, our friends at HubSpot do a great job of making things simple and visual.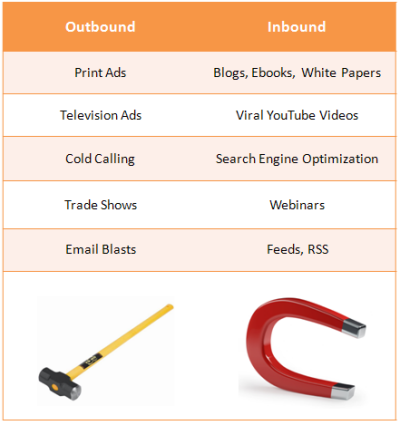 (Source: Inbound Marketing as the Next Phase of Web Marketing)
You've wasted enough time, you've wasted enough money, it's time to do something different. If you're ready to learn what this whole inbound things is all about, check out our free featured eBook or contact anyone of our Denver inbound marketing experts.